Home Page for David Leberknight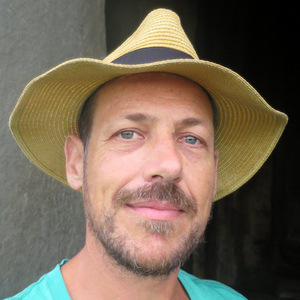 When I was a boy, my uncle told me about his solo bicycle trek across Central America. I grew up wanting to do that too, so I studied Spanish and computer engineering. On my first trip, I climbed the tallest mountain in the Andes (Aconcagua), then visited Peru and Brazil. My second trip was a solo bicycle trek across Central America. Then I got a job in in Tokyo. All totaled, I've spent about seven years backpacking the world, mostly with my Brazilian wife Lili. We reside in New Zealand.
Here's my blog, David and Lili's World Tour (photo journalism, sort of, from Planet Earth).
Here's my novel, Globalocity (the Adventures of Raymond Love, Jr.) - SOON to be available as an e-book!!!
Between my adventurous escapades (to make money), I work as an enterprise architect, project manager, and technology consultant. Here's my Curriculum Vitae. I used to teach "Object-Oriented Design with Java" (Software Engineering in the wild) at the University of Colorado. The Lecture Notes (PDF files) are current. Here's an example Java applet: create Fractal Art in your browser.
I speak Spanish and Portuguese fluently; my French is getting there. I still practice Footbag and yoga, but my knees are no longer up for Ultimate or soccer. I ride my bicycle to work whenever possible. Sometimes I burst into spontaneous juggling.
I agree with Secular Humanism. I believe that Evolution is not just a theory, but a fact. After having visited gorillas, chimpanzees, orangutans, and humans in the wild, I can testify that we humans talk better than our furrier cousins, but we don't climb trees as well. The good news is that empathy is in our nature. Thanks for surfing my page. Peace.